3 Very Important Fights for ALL Union Members...
Believe it or NOT....There are 3 Very Important Topics on our Home Page that can, and are, Having an Effect on ALL Union Members!
They are having an effect on the survival of the Middle Class!!
Please read the articles under the National & Local Labor News Section!
The Recall of Scott Walker in Wisconsin...Tom Barrett for Govenor
The Mobilization and Fight of CWA Against Verizon (A whole menu section devoted to this)
The Fight to Reverse Citizens United-- the same big corporations and billionaires that destroyed our economy and caused millions of us to lose our jobs and homes, are spending obscene amounts to drown out our voices in elections and take over our government.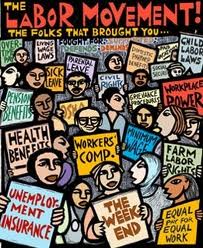 ---